Physicians of the future are not only doctors, but also economists, administrators, and problem solvers working toward the common goal of improving patient care. Answering the nation's need to transform medical school education, Mayo Clinic Alix School of Medicine and Arizona State University have created dual degree programs training physicians of the future in the intellectual disciplines and practices of medicine, management, technology, law, and communication.
MD/MS in Science of Health Care Delivery (SHCD)
The College of Health Solutions and Mayo Clinic Alix School of Medicine have joined together to offer Mayo students a unique opportunity to earn both an MD and a Master of Science degree in the science of health care delivery.
The science of health care delivery is the study and design of systems, processes, leadership and management used to optimize health care delivery and health for all. The MS degree provides students with the knowledge and competencies to contribute to and lead a patient-centered, safe and cost-effective health care system.
Change in the health care system has accelerated in the past five years and will continue to do so as the health care system evolves to one based on value rather than volume. The certificate program in the science of health care delivery prepares the future health care workforce — upcoming executives and administrators, aspiring physicians, nurses and allied health professionals (such as physician assistants, physical therapists and dietitians), and students in health-related disciplines — to improve care delivery and the patient experience for better outcomes, quality, safety, service and cost.
Mayo Clinic Alix School of Medicine students are among the first to earn a certificate in the science of health care delivery upon graduation. Students have the personal option of exploring this field further and earning a master's degree in the science of health care delivery through ASU.
+ Read more
M.D./M.A.S. Master of Advanced Study in Health Informatics (HI)
ASU's Master of Advanced Study in Health Informatics, offered online through the College of Health Solutions, is designed to offer an opportunity to earn a master's level degree in the effective use of information technology, data science and knowledge representation to impact health and health care.
Clinical informaticians' work includes a broad range of improvements to patient care, such as enhancing electronic health records systems, clinical decision support, data interpretation, knowledge management and its effective delivery, and human computer interaction. This field requires close collaboration among clinicians, biomedical and computational scientists, knowledge management professionals, educators and health care consumers.
+ Read more
M.D./M.S. in Biomedical Diagnostics (B.M.D.)
Biomedical diagnostics is at the center of health care innovation today and is involved in the majority of all clinical decision-making. Diagnostics is essential to the practice of medicine, including individualized medicine — the process of identifying the treatments most likely to benefit an individual patient based on their genetic and physiological characteristics.
The College of Health Solutions offers a unique and innovative initiative in the exciting and fast-growing field of diagnostics. ASU, along with our academic and industry partners, is creating a critical center of biomedical knowledge and innovation, committed to stimulating economic growth and improving the quality of life globally.
Higher education is being transformed globally through new collaborations between public and private sectors. At the intersection of the business and health care communities, our school's mission is to:
Educate the next generation of health care executives to understand, appreciate and better utilize diagnostics in clinical medicine and scientific research
Train students to be active, impactful and senior members of the health care and life science communities through coursework and exposure to industry experts
Positively impact the advancement of preventive health care and personalized medicine while lowering health care costs
+ Read more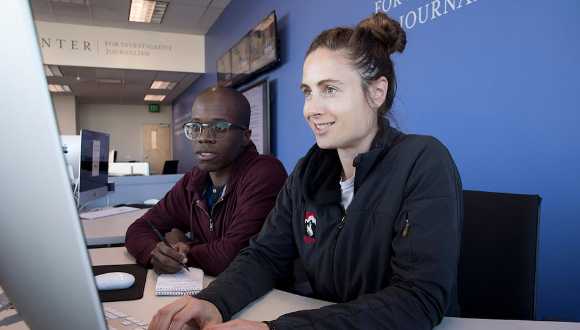 M.D./Master of Mass Communication (M.M.C.)
ASU's renowned Walter Cronkite School of Journalism and Mass Communication offers unparalleled learning opportunities through its master's degree programs, designed to prepare students for today's rapidly evolving media landscape. The Cronkite School's Master of Mass Communication provides real-world, practical experiences through its professional immersion programs under the guidance of award-winning journalists and communicators. Located in the heart of downtown Phoenix, the nation's fifth-largest city, the Cronkite School is the home of Arizona PBS, the largest media outlet operated by a journalism school in the world.
M.D./Master of Business Administration (M.B.A.)
This unique curriculum is designed to cultivate a learning environment that will train you to become a physician-leader prepared to make meaningful and impactful contributions to the health and well-being of individuals, as well as society as a whole.
Structured to be completed in five years, the MD/MBA dual-degree program integrates the expertise of the Mayo Clinic Alix School of Medicine in patient care and biomedical advancements with the prowess of the W. P. Carey School of Business's entrepreneurial approach to learning and groundbreaking research. As a result, you will learn to dissect complex business problems to inform pragmatic multidisciplinary solutions.
This visionary program prepares you to become a leader in the business of medicine and the science of health care delivery.
+ Read more
M.D./Juris Doctor (J.D.)
Combining your M.D. degree with a Juris Doctor (J.D.) degree from the Sandra Day O'Connor College of Law at ASU will prepare you for leadership roles in a variety of health care institutions, for developing health care policies for governmental agencies or nonprofit organizations, and for careers in medical and legal education. The Sandra Day O'Connor College of Law is one of the nation's preeminent law schools, conveniently located on ASU's Downtown Phoenix campus.
The JD provides students with the following knowledge and skills:
Case law and statutory intricacies related to health care
Legal research, analysis, reasoning and problem-solving
Written and oral communication in the legal context
Professional and ethical responsibilities to clients and the legal system
+ Read more
"Mayo Clinic and ASU broaden the professional horizons of tomorrow's physicians through dual degree programs. A dual degree opens career opportunities for physicians by preparing them for leadership responsibilities within their organizations, for research-oriented careers as clinical investigators, for using innovation and design thinking to solve health care problems and much more."
Alan Rawls
Executive Director, Clinical Partnerships, Office of the University Provost
Arizona State University